Here's how you can use magic moments to build trust and gain referrals.
The goal of every real estate agent should be to create a profitable, repeatable, scalable, referable, and subscription-based business through relationships. If your business has raving fans, word of mouth creates built-in trust. How do you build systems to ensure your clients are delighted with your service?
What if you looked for opportunities to stand out and not be a commodity? Always remember the magic begins with you and your vision.

"Magic moments are chances for you to transition from a transactional relationship to a personal one."
Examples of Magic Moments:
1. Offer has been Accepted
2. Lender Approved Mortgage
3. Closing
4. Annual Move Anniversary
Each sale has opportunities to create what we call "magic moments." These are chances for you to transition from a transactional relationship to a personal one. The options here are countless, but we want to focus on three.

1. MAGIC MOMENT ONE: Offer is Accepted
First, imagine a property is under contract, and you call the client to let them know everything has been signed. You could email the information or you could turn it into a magic moment. What if you said something like…
SCRIPT FOR MAGIC MOMENT ONE:
"Congratulations! The house is under contract. How do you feel? Remember we talked about The Promise in the beginning? How are we doing on delivering on that for you on a scale of one to five? One being crappy and five being happy?

Have we earned the right to ask for a five-star review and a referral?"  May I text you the link to give a review?"

To create your Keyboard Text Replacements, go to Settings > General > Keyboard > Text Replacement > +. After typing the + you can enter your Phrase and Shortcut. Type the phrase you want to have the shortcut type out and type in the shortcut phrase that will create it when you type it in the future. Then press save.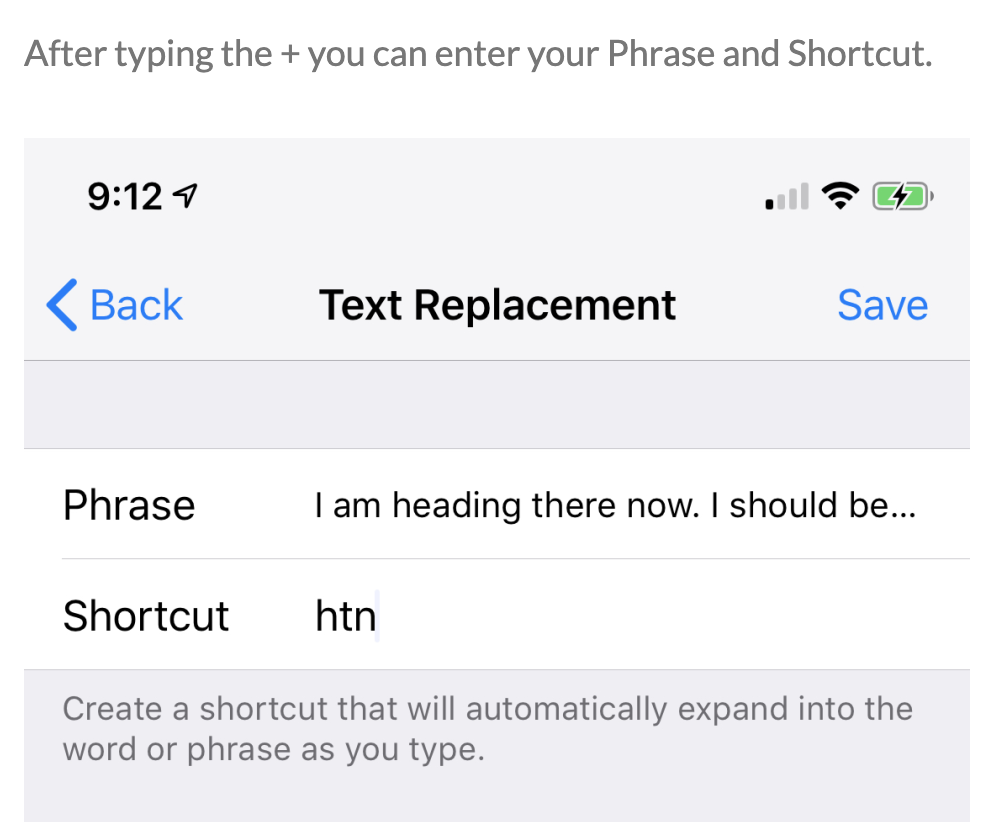 2. MAGIC MOMENT TWO: Loan is Approved
Check to see if any reviews were made, then call about the mortgage approval and clear to close. Either the admin or agent calls.

SCRIPT FOR MAGIC MOMENT TWO:
"Congratulations, the mortgage is approved with no conditions, so we are ready to schedule your closing. You made it! How are you feeling?

I understand how busy you are and I see that either the review did not make it through yet, or maybe you have not done it yet? How are we living up to our Promise?

Great, do I have permission to text you this link for 5-star review?

Is there someone you can introduce me to who has a real estate question, who might be buying, selling, investing in, or looking for a career in real estate?

And if we get to the closing and we still don't have a referral, we will talk about that, Ok?

We'd love to get a video testimonial too.  Are you willing to jump on zoom and do a quick video story of how we helped you prepare your home – resulting in 25 showings, 15 offers and 5% above asking price?   The next steps are. 

By the way, you can email them to a gatekeeper link that allows them to go forward to give reviews on 6 sites if they press 4 star or higher.
Here is an example of our review pages:
https://kathytoth.com/let-us-know-what-you-think/
https://kathytoth.com/thankyou/
The key is asking if you've earned the right for a referral. Don't be demanding; if you've provided quality service and built a solid relationship, you have an opportunity to create a magic moment.

3. MAGIC MOMENT THREE: Closing

SCRIPT FOR MAGIC MOMENT THREE:
"Congratulations, you made it and how does this feel?
Have we earned the right to receive introductions to your network who might be needing a 5-star realtor?"
Finally, you make it to closing. If everything has gone well up to this point, it might make sense to ask your client for a list of people in their network who may need a five-star Realtor. If they agree, you can grow your database into a databank and create more opportunities for magic moments in the future.  A great read is
Be Our Guest: Revised and Updated Edition: Perfecting the Art of Customer Service (The Disney Institute Leadership Series)
Now you can launch your after care system for you precious Forever Clients. Remember to ask you allied resources to always support you in conversations with clients and mention the promise.  Example is  "Hello Mr Seller, I am the Team's Stager and you made a great decision to work with the Team. They are the best and I am sure you have heard about their promise, right? " For an example of The Promise, just ask me. And anytime you can write a personal note thanking them for the opportunity, will be another special touch….
Let me know how you implement OR IMPROVE or want to look at coaching. Please call or email us. We'd love to help in any way we can!