Read What People Are Saying About Us
We always ask our clients to write or email us, and tell us truthfully how they appreciated our service to them. We are fortunate that some of our clients even recorded videos to share their experience with the Kathy Toth Team. Their feedback is so important! Here are a few highlights of what people are saying about us, including a video playlist of client testimonials…
Here are a few items our clients in the Raving Fans Club enjoy:
Free Use of In Office Notary
Free Use of Office Meeting Space
Free Use of Ladders
Free Use of Pressure Washer
Free Use of Folding Tables
Free Use of Chairs
Free Use of BBQ Pit
Free Use of Lawn Mower
Free Use of Saws
Free Use of Drills
Free Use of Tools
Free Use of Wheel Barrow
Free Use of Bolt Cutters
Free Use of Tree Trimmers
Free Use of Hedge Clippers
Free Use of Shovels
Free Use of Tiki Torches
Free Use of Camping Tent
Free Use of Tailgating Pop Up (labeled U of M or MSU)
Free Use of Camping Cookware
Free Use of Tarps
Free Use of Beverage Coolers and Margarita Machine
Free Use of Leaf Blower
Free Use of Garage Sale Signs
Free Use of Turkey Fryer
Free Use of Crawfish Pot
Free Cashflow Analysis of Investment Properties
Referrals to and Pre-screening of Real Estate Professionals Anywhere in the World
Free Literature On Buying and Selling A Home
Free Relocation Information
---
I want to express my sincere appreciation for the amazing customer service I have received from your team.
Since listing last May, Eric and Mike McGee have gone above and beyond repeatedly to make sure I had all the information I needed to make a good decision. Mike fought for me at closing against some pretty crazy buyers. Eric provided me all the documentation I needed as soon as I asked for it.
Mike went the extra step to go to court with me yesterday so that I would have Keller Williams representation in my fight to get my deposit reimbursed from aforementioned crazy buyers. He brought documentation that was instrumental in me getting a positive judgment from the court.
His dedication to his customers should be recognized by your organization and I can't thank him enough. I would be honored to recommend him as a broker of integrity and exemplary customer service. You are undoubtedly very grateful for such terrific associates who represent you so well, as am I!
Margo Burrage
---
Kathy guaranteed to buy a house so my buyers could perform non contingent on my house.She took away all the risk so I could sell!As far as I know, she is the only agent who does this and it was a HUGE advantage for me and my family. In my opinion it was the only way I could sell and be successful.
Jim Kierst
---
"We have dealt with many Realtors over the years since 1970 when I bought my first home in Ann Arbor. We have never had a more pleasant experience when buying or selling a home. Mike McGee and the great procedures that the agency uses, made the process extremely simple for us while selling our home of 23 years. From the moment we met him we felt total trust and confidence that he knew exactly what we needed to do. He is down to earth and extremely knowledgeable about every facet of the real estate business. He guided us toward a good price and listened to our every concern. He set our minds at ease. We are so happy that we decided to go with the Kathy Toth agency and especially happy that we got to work with Mike McGee. We have already recommended him to another seller. We had 10 showings during only three days of listing our home and that produced four solid full price offers!"
Paul Wilkie
---
"Let me start with Donna. Donna is a fantastic person to work with. She was always there 100% of the time keeping me up to date of whatever was going on. She made things happen (I am sure you knew about our situation). Donna was a very calming influence and always delivered what she said she was going to. I know she the person behind the scenes, but an incredible asset. Donna would be a 10/10, every single email I have ever sent to her, she responded immediately with a well thought out and correct answer. Now on to Brian. Lets start from the very beginning…. When my family was going to be in the area, I did some online research about Ann Arbor real estate agents and I saw many positive feedback about your team. I wasn't looking for an agent or a team that stressed volume and x number of millions in sales, I was looking for someone who cared about their customers and their needs. I sent an email to the generic email asking to speak to someone about the area and was interested in an area tour and seeing some houses. Within a day, I received an email from Brian saying he could help and asked what we were looking for. After a few emails and texts, I learned he was in Hawaii and doing this. We were impressed that someone would email and text from such a destination. We shared what we were looking for and what type of area we were looking for. We met Brian at the Ann Arbor office and he took us out and gave us an area tour.We learned pretty quickly that he had our best interests at heart and was very proud of the area (this was before we knew he was a morning radio person). We then met Joel who took us to a few houses because Brian had another commitment. The houses that Brian picked for us, were generally what we asked for. Each house had a fundamental flaw and Brian took note of the issues. The flaws were things that there was no way he could have known. Brian then called the next day and we set up a time to see a few more houses and he took some time to refine his list. Brian took us out to 7 houses that day, and I will say with 100% certainty, they were better houses and he took the time to learn from us…. Long story short, he showed us the house we eventually bought. Throughout the offer process, Brian was helpful and on top of his game especially with us being 550 miles away. He made that process simple. Towards the end, there was a snafu with my credit report and an underwriter issue, Brian kept the selling agent in the know and kept the situation under control. He was a great asset to have. All of the effort he put forth, was appreciated and did not go unnoticed. I would not hesitate to use or recommend Brian to anyone. Fantastic person and a great person to have on your side. Up until the very end, the process was 100% smooth and when it got bumpy, he made it not so bumpy for us. Fantastic person and would highly recommend him to anyone."
Derek Beauchamp
---
"Thanks to Kathy Toth and Team I sold my land after having it on the market with several agents for years. We sold it close to list price to the lovely ladies pictured here. I can trust her Ann Arbor real estate expert team to do exceptional work and so can you."
---
"You're in great hands with Kathy Toth & Team! Top-notch service! They make the home buying experience simple and easy!"
Kristin Ebert
---
"Really liked working with this team not only once but twice. Keep up the good work."
Cindy Isaac-Harper
---
"We utilized Kathy Toth and Team to find our home because of the experience my wife had with them through work. We had tried other realtors who were slow to give us lists of properties that fit our wants and needs or tried to push their own company's properties instead of ones that met our requirements. The buyer's agent we worked with (John Price) represented Kathy Toth and Team wonderfully. Within a month we were moving into a home that met all of our needs, at a cost below asking price as well. My wife will definitely continue using Kathy Toth and Team for her work needs and we will definitely use them again when we move in the future! "
Alan Fredendall
---
"Kathy Toth and team did a fantastic job selling my home. They are knowledgeable about the short sale process. They answered every question I had and gave me the information and the peace of mind needed to have a successful home sale. I had the best possible outcome. I have sent family and friends to the Toth Team to buy and sell homes. This is definitely the team you want!!"
Deb Miller
---
"Having lived in Dexter for over 30 years my wife and I were familiar with Kathy Toth and watched Kathy's success grow. Mike Mcgee the other seller's agent came and discussed the Kathy Toth's team approach to selling our house. While it was different then what we were used to (this was only the second house we ever sold), it made sense and there was their guarantee that they would get our house sold quickly. My wife and I settled on the selling price based mostly on our research but also on Mike comps and we had an offer after the first showing. We were happy with the price and with Mike's work as our agent. We had his cell number and he always picked up or responded back quickly with answers to our questions or concerns. He even answered sometimes on Wednesday, the only day he takes off. Fortunately, Mike is a good agent because the buyer's agent was awful. Our closing was delayed and placed in jeopardy due to the buyers mortgage broker and lender. Mike spent 2 solid days helping to close the deal including driving to the lending company an hour away to speed the paperwork up so we could close on our new home in time. Overall a great job. Use them, especially Mike, and you won't be disappointed."
Mel Schroeder
---
"My wife and I will celebrate two years in our beautiful home this week. We are so grateful for all the help and support from Kathy Toth and Team."
Steve Nelson
---
"The realtor was very friendly and knowledgeable. She knew what I was looking for."
Satisfied Client
---
"The team approach kept the experts of real estate always in the forefront. The client care manager is amazing, the absolute right person for the job."
Tim Blacklock
---
"My feelings of nervousness due to being a first-time home buyer were met with consideration and clear advice."
Satisfied Client
---
"Everyone was so helpful and made us feel that our house would sell when we had doubts."
Michael and Kathy Wyatt
---
"Pam remained so hopeful when I wanted to throw in the towel. She went above and beyond her call of duty. I love her!! She made me feel like she and I had a bond. Pam is tops!!"
Nakiya Weatherspoon
---
"Karin, Mike and Kathy were all pros who did the job we expected!"
Satisfied Client
---
"The Toth team helped us prepare the house for showing. Once we were ready, the house was listed on a Thursday and immediately, we had interested buyers lining up. By the next Tuesday, we had an acceptable offer in hand – a very impressive turnaround. From then on, the Toth team managed all aspects of the negotiation and the preparation for sale. They are very thorough and extremely responsive in their communications. Everything went as planned."
Sven Brueckner
---
"From the beginning the The Kathy Toth Team brought an exceptional amount of knowledge to the table. We were able to do a short sale on our home which required additional patience and knowledge in the processes of making the sale. I was impressed with how well the team did and how they responded in a timely manner with answers to our questions."
Brian Durant
---
"I hired Kathy and her team to sell my lake house. They got more than asking price in one week. I have known Kathy for 20 years and trust her and her team's expertise and network explicitly."
---
"Mike was always easy to contact and prompt to respond to calls and emails. He was helpful with the contract and all negotiations. While working with Mike I could tell that he genuinely cared about getting my family into a home we loved. We weren't just a commission to him."
David and Andrea Nance
---
"As former head coach at the University of Michigan Baseball, I know excellence when I see it. And with Kathy's team of Ann Arbor Area Real Estate Experts, we have received extraordinary service and sage advice. The University of Michigan Athletic Department connected us when we relocated to Michigan to purchase. We were very happy with their caring, integrity, and resources when we bought and have been very happy with our home since 2002. We have since hired Kathy to sell our home and again find her network, expertise, and insider knowledge to be invaluable in our negotiations. I know I can pick up the phone and get counsel from her regardless of where we move. We know we can count on her to refer us to top agents like herself all over the country if need be. As far as we are concerned, she and her team are the best REALTORS in Ann Arbor!"
Rich and Kellie Maloney
---
"It was our sincere pleasure to work with you – AGAIN – for our recent real estate needs. You expertly helped us sell in 2003 (after employing the service of a competing agency), and we did not hesitate to call on you again this year. Our sale was managed flawlessly from beginning to close and we had absolute confidence in your recommendations and follow-through.Thank you for what you do and who you are as a person…there are plenty of quality real estate agents who do fine work. In our opinion, however, your ability to 1) put yourself first in your client's position and 2) find precisely workable and timely solutions…put you at the top of your profession.
We have recommended you in the past and will of course continue to do so. We wish you many years of continued success!"
R. Kelly and Lea M. Boyd
---
"Kathy Toth team was highly positive and helpful in all aspects of the sale. Her team handled a short sale for me very successfully. There is a wonderful new family in my former home and I have been able to move on with few worries. I would highly recommend this TEAM for any Real Estate needs."
Deb Miller
---
"We used Kathy Toth and her team to purchase a short sale. She was professional, quick to respond to any questions we had. The process went very smoothly. I believe it was due to their dedication and expertise. I highly recommend them!"
Jennifer Monahan
---
"I wanted to take a moment to let you both know what a valuable asset your company possesses with the service provided to us through agent Marcia White. When I found out we were relocating to Ann Arbor in order to follow our daughter, son-in-law and granddaughter became the recipient of the 2012 University of Michigan fellowship for three years I jumped right into action mode and looked online for brokers to help us find two homes to live in over the next three years. I made phone calls to quite a few different brokers and companies leaving messages as well as sending emails. I was quite surprised that days and weeks went by with no responses from any of those I contacted. (I actually heard back from a few a month later!) After a few weeks I intensely began making yet more calls and did not know at the time that I would hit the jackpot when Marcia answered the phone herself! From that phone call going forward we were completely taken care of as we counted down to our first visit to Ann Arbor to begin the search. Marcia sent updates to us and our daughter as each new property came up for consideration. We needed to cancel our first planned date of arrival due to bad weather and once again she was most gracious to state she was readily available whenever we rescheduled. My daughter and I came a few weeks later and she went over our expectations in getting places lined up that provided each of us exactly what we had on our "must have" list as well as providing invaluable information along the way that comes from her long time realty experience and knowing the area like she does. After we both found exactly what we wanted on the very first day she made sure all the details were handled on the second day and continued to do so to the present. Even when there were some long drawn out pitfalls from a lack of timely and professional communication due to another agent, Marcia continued doing whatever it took to get us answers and make sure we were covered as clients of your company which was and is much appreciated especially when dealing with this transaction long distance. Her input and assistance was and is first rate! Our daughter is in full agreement that when we are asked by anyone in need of an agent and agency in Ann Arbor we will promptly reply "Call Marcia White at Keller Williams!" I just thought you should know as well!"
Barbara Cole
---
"I am sending this email to you to let you know how grateful I am that the Kathy Toth Team listed & sold the home left to us in an estate. My family can now close this chapter in our lives & move on. Any time there is a loss in your family it is hard enough to deal with that, but having to deal with the real estate issue was a task I felt needed expertise. I searched around to find the best real estate company I could that I felt would advertise & market the home we needed to sell. Mike McGee came out to do the listing. Mike did a great job handling the listing and doing the write up for the marketing and advertising of the home. The pictures & virtual tour were wonderful also. There were some extra steps needed in handling this home sale, due to it being in probate & having liens to be resolved. Everyone on the Kathy Toth Team did a remarkable job to help get this closing done as quickly as possible! If anyone is wondering who to list their home with, I can happily advise that Kathy Toth and Team are the choice to make. God Bless you all & thanks again for all of your extra effort in selling our home. I am thankful to have had the opportunity to meet & work with the Kathy Toth Team. If you make this choice, you will be happy too!"
Amy Simpkins
---
"Thank you for the excellent representation and the expedient sale of our home on Hiland Lake, Putnam Township, MI. The Toth Marketing Plan successfully sold our home in less than seven days within 2% of listing value. We selected your team because we liked the very clear marketing and sales process and delineation of responsibilities within the team to manage a property sale from listing through closing. This marketing approach is unique to Kathy Toth & Associates and it worked!We recommend Toth & Associates for others consideration and will work with your team again when the opportunity presents itself."
Marcie Kurcz
---
"Our home was on the market for many months with little activity. Once Kathy became our agent-publicity and showings increaed. An offer soon followed. Kathy's team was awesome. We could always reach someone, communication was great and they were very personable. An all around excellent experience!"
Mary Kaye and Richard Morse
---
"We hired Kathy Toth and Team to sell our home based on her reputation. Sheguided us through the short sale process giving us options every step of the way. While working with the lenders can be confusing and frustrating, we were kept informed and made aware of the reasoning/process. They got us a full price offer and we are pleased with the outcome. We will highly recommend Kathy's team to everyone."
---
"We hired Kathy Toth Team because of Glen Beck radio endorsement to sell our home as a short sale for full price. They are hard workers and very knowledgeable about Ann Arbor Area Real Estate."
Charles Smith
---
"Kathy Toth sold my house on a short sale 62 days for $280,000. My attorney referred her to me. I had it listed with another agent before my husband passed away and we didn't have any showings. I recommend her to everyone I know. She is aggressive, gets results and is someone you can trust."
Louella Raymer
---
"I am very pleased that Kathy Toth and Team sold my Ann Arbor condo in a very challenging market, keeping me informed and providing options with professional service throughout."
---
"Kathy Toth and Team sold my Ann Arbor Blue Heron Pointe Condo after the sheriff's sale and before it went to foreclosure. It sold in 16 days at full price."
---
"I am so thrilled to be able to sell my place after being a landlord. Working with the Ann Arbor Real Estate Experts Kathy Toth Team made it as easy as possible. Kathy also co-wrote a book called Should I Short Sale My Home? If you are thinking of doing a short sale in Ann Arbor, MI, hire her because she knows how to negotiate with the lenders."
---
"We hired Kathy to market our house after hiring previous agents to no avail. We wish we would have hired her first. From the very first week we experienced an outstanding difference, dedication and professionalism which resulted in us selling the home and getting us out of a short sale bind. Don't make the mistake we made – go with the best."
---
"I hired the Ann Arbor Real Estate Experts who sold my son's home to also sell our Whitmore Lake front cottage. They did a great job of keeping us informed, negotiated a fair deal and sold it quickly"
---
"My home went to sheriff's sale and Kathy was able to sell it and help pay the redemption amount so I could walk away with some money. I am very blessed that Kathy helped me."
---
"We recently purchased our first short sale home with the help of The Team. Although waiting for an answer from the bank can take time and be extremely frustrating, it pays to have patience. There are not enough words to describe our gratitude to Kathy Toth and her team for the amount of work they put into helping us find our dream home. We would like to extend a special thanks to our buyers agent, Nancy Milam, for all the time, effort and commitment she put forth. We would recommend the Toth team to everyone. Remember that with some time and patience, Kathy Toth and team can make your dream home a reality."
Lori Thome and Chad Silveus
---
"Thank you so much for everything! It was a stressful position for all of us. Thank you for putting up with us for the past 5 months. This was such a serious situation for us and our family. We will never forget the hard work, the dedication of your team and the passion you have. You truly are life savers! You will always be our favorite Real Estate Team!"
Danielle and Jim
---
"Well closing went off very smoothly for my lake house and I just wanted to say Thank You for all of your help and patience in the past weeks. I realize that things are usually not quite this labor intensive, but you all really made things as painless as possible. You guys were all fantastic, and I would recommend your office to anyone without hesitation and thanks again; so glad I went with you when my listing expired with other agent!"
Mike Babycz
---
"I sure am glad that my wife and I chose Kathy and her team to handle selling our 1st home and buying our dream home. Not only did she find the perfect home for us, but she sold our 1st home in 9 days. WOW! She knew the market and target selling price. We actually sold our home for more than the asking price. I highly recommend Kathy Toth."
Ted Stilber
---
"Kathy helped us sell our home against all odds. Kathy was the third realtor that we hired to sell our house, and was the only one who had the resources, knowledge and will to sell it. In the 11th hour when our sale had a potential road block, Kathy used resources and contacts to help iron out the problem and make the sale happen. We are forever grateful for Kathy Toth!"
Jenny and Jeff Baumann
---
"Things at the house are going wonderfully!!! I really love this house. It is awesome. I just wanted to take this time to thank you personally for all the help you were during everything. Chris, John and I are really happy here and it would not have been possible if you were not the kind hearted person you are. After I met you for the first time I just knew that you were the one to help me buy our Ann Arbor Area home and I was right!!!!"
Jamie Daley
---
"We worked with Kathy to sell and buy a house in a tough Michigan market and we received excellent results. Kathy and her staff work seamlessly as a team, extremely punctual in all aspects of the process, and they offer keen insights for nervous customers. We'll be doing business with her again."
Dale and Julie Fitch
---
"I hired Kathy Toth and Team to market our estate. Being out of state, they handled a lot of the details that made the transaction smooth. They always kept me in the loop and I was pleased with the results and the communication of the whole office."
Len Lillard
---
"Kathy Toth is one of the leading real estate agents in the lower Michigan area for some very good reasons. Their team is highly professional, efficient and driven to be the best in the industry. My only regret is that I wasted time trying to sell our home myself before hiring the Toth Team. Their Top Qualities: Personable, Expert, High Integrity."
Tim Newbound
---
"The REALTOR you choose could literally make or break the deal. Kathy and her Team provided: aggressive marketing, sound pricing strategy, advised us of numerous options available, and they were fully vested in our best interests."
---
"I suggest you hire Kathy Toth and Team to market your Ann Arbor property. From professional quality pictures and high definition tour, to excellent exposure and ultimately superior representation, there is no question. There is a HUGE difference in REALTORS..just call them, even in a challenging market, and with me being out of state, they excel!
Jacquie Benton
---
"We hired Kathy Toth to sell our home in Saline and suggest you hire her Team. They sold our house at list price in a few weeks in a challenging market.  Communication was excellent, pictures and marketing were outstanding.  We know what poor service was with a previous agent.  Don't make that mistake.  Just hire Kathy, you get superior systems and resources.  Now we get to shop with our buyers agent Vicki who we LOVE."
---
"Thanks to Kathy Toth and Team, my house sold in less than three months! Kathy knows the difficulties of today's market and how to work with the banks to get results. Her reputation and hard work brought more people through my house than previous realtors. Kathy educated me on how to close on a short sale. I was able to preserve my credit by avoiding foreclosure. I guarantee you Kathy will expertly guide you with care, confidentiality and with true professionals."
Jan Yarbrough
---
"Kathy Toth and Team sold our lake home in December so we could trade up to a foreclosed home. We highly recommend you work with her team. The excellent exposure, professional pictures, and great negotiating got us $1,000 off list price in 8 weeks."
---
"Kathy and her team did a fantastic job for us in both selling our home and providing many options as we looked to purchase a new home. She has a great understanding of the market conditions and provided us with documentation to help understand where the market was going. If selling your home or buying a new home, I would highly recommend Kathy and her Team to assist you.
Paul and Allison Bishop
---
"Where do I begin to tell people how great the experience working with "The Team" was for us. The professionalism was unbelievable – on the scale of a giant 10. I could go on all day but you get the idea. We have bought and sold 9 homes and condos in 43 years of marriage and never had a more positive relationship than the one with the Toth Team. We initially chose a friend of a friend to sell our main residence. Boy, what a mistake for a year and a half! It took you only a couple of months to finalize what someone else couldn't do. Updates, follow-ups, follow thru's,etc. always gave us the feeling of warm and fuzzy through a short sale"
Dennis and Jane Keller
---
"When my wife and I purchased a home nearly ten years ago, the selling agent was Kathy Toth & Team. We noticed that they seemed to do a very good job for the sellers during the process. In the years since, we have had friends who have used the services of Kathy & Team and have raved about them. So, when our family grew too large for our first home, we knew we were going to go with Kathy for our new home search. We have come to find out that when you read "Kathy Toth & Team", you get Kathy Toth & TEAM! Our buying agent was outstanding, but we worked with many others on the Team, including Kathy herself. We had a wonderful experience and purchased the house of our dreams! We would highly recommend Kathy & her Team to anyone looking to buy or sell a home. All we can say is that they ROCK!
---
"I called Kathy to market my Liberty Loft because I saw she sold a neighbor's property. She sold it for 98 percent of asking price in 53 days. She and her team communicated with me constantly. I will recommend them to everyone I can."
---
"I moved from Ann Arbor. Kathy Toth and the team sold the house close to list price in 76 days in a challenging market. I have dealt with other agents and can definitely tell you that all agents are NOT alike. Kathy constantly kept informed and always worked in my best interest. She and her team helped me buy several years ago. As a human resource manager, I know the value of trust and communication. You will be well served by calling Kathy Toth and Team to represent you."
Gary Uptigrove
---
"I just wanted to thank you and your team for all the help given to Julie and I in the selling of our Ann Arbor home and the purchase of our Saline home. We have just celebrated the first "Pelton Family Christmas" which included 15 family members. Julie and I have been elected to host the family Christmas every year from now on… We'll see about that one.Anyhow, I just wanted to wish happy holidays to you and yours and thank you again for making our move seamless and above all, QUICK!!
Both my Parent's and my Sister's family will be moving within the next year and I have highly recommended your team represent them."
Greg and Julie Pelton
---
"Larry and I hired Kathy Toth and Team to successfully sell our home in Chelsea, Michigan. Little did we know that we would become lifelong friends with her and travel the World after leaving the Ann Arbor area. You can trust her to exceed your expectations and deliver results."
Mary Lee and Larry Radka and Koala Bear in Sydney, AU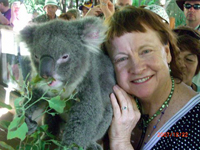 A new Aussie friend
---
"I am so grateful to Kathy and The Team for helping me buy my home, but more importantly for guiding me in choosing the best lending options so I did not get over extended and am comfortable in my payments and my home. I have found them to be very honest and now life long friends. There is no replacement for experience."
Karla Stors
---
"Vicki worked tirelessly to meet our needs, helped us buy the best house, and saved us $8,100. We are thrilled with our house and LOVE Vicki; we appreciated working with the Toth team. There is only one team to call."
---
"I just wanted to say that I worked with Vicki on the Kathy Toth Team as my buyers agent for my Ann Arbor home and felt that my best interests were truly represented. She negotiated on my behalf and saved me thousands of dollars. She was prompt, available and consulted me to a win win situation. I will tell everyone to call you and recommend the Kathy Toth Team."
Audi Berzinskas
---
"Kathy Toth and Team helped us buy and sell our Ann Arbor houses in a challenging market. We thoroughly enjoyed working with them. The communication is superb and we were kept informed during the whole process. We think everyone should know there is a huge difference in REALTORS and they are THE best. To us, they are like our real estate Doctors; we look forward to a lifetime relationship"
Jennifer Johns
---
"In a seemingly impossible market, I am convinced I had a selling advantage with Kathy Toth and Team. Kathy was realistic on pricing the home and continued to advise wisely on this as the market changed. When offers came in she continued to advise, leading me in the right direction and keeping me informed at every stage of the game. When my house sold, the buyer needed to close in less than 10 days! I was concerned it couldn't be done but my closing was smooth, uncomplicated, and on time!
Not only was Kathy Toth hardworking, responsive, and positive throughout the process but I also felt completely supported by the Team throughout the transaction. The use of technology to report the viewing activity on my listing and to confirm updates to my account gave me everything I needed right on my PC. When you're selling a house, it is so personal and important to you and I always felt that it was personal and important to Kathy Toth and Team as well. Thank you!"
Jen Hughes
---
"We bought our house in June this year. Nancy Milam was our Realtor. We loved working with her. She's extremely knowledgeable, and delightful to work with. We worked with her for about a year before finally completing our move. We had been selling our place in Tennessee, and it took quite some time. In the meantime, we looked at properties in Michigan. She really listened and understood our needs, and always considered the features that were important to us. She helped us through a challenging time in our lives. She would also give us her expert opinion when we asked for it, and was direct and honest. That's what we needed. She really earned our trust. She's also a kind and fun person. We really appreciated working with her and your Team."
Lynne and Barry Pavesi
---
"Our experience with the Kathy Toth Team was quite remarkable and I sometimes have to pinch myself to believe that our house sold in 4 days in a tough market! We had our home for sale for two previous summers with different agents. Everything about our sales process went like clockwork with Kathy. The team concept allows for constant monitoring of our needs and we were always taken care of. Thank you for making our home sale such a memorable experience."
---
"Although we now look back fondly at our time spent in Ann Arbor and in our home at 2388 Pinecrest Ave, it could have been a very different memory. At first, we tried to sell our home by ourselves, but we were unsuccessful.
Knowing we needed help in such a difficult market, we searched for the best and most honest real estate agency, and found Kathy Toth and Team. Not only did they sell our house in a very competitive market (while many other homes are still sitting), they did so under average market time, and were a pleasure to work with. They clearly understand the market, have access to incredible resources, and their experience and expertise enabled us to get the maximum price the market would allow. Of course, you are free to sell your home in whatever way you feel is best; however, we feel strongly that Kathy Toth and her Team are the best resource available to you, and we highly recommend that you give her a call: 669-0337.
Sincerely,
---
"We contacted Kathy Toth, because she helped us in the past when we were searching for a house. We like her and trust her. She was sensitive to our needs and our emotions over letting our house go via a short sale vs a foreclosure. It is the smart move to make. We had brain-stormed to figure out what was best for us due to my husband's poor health and loss of job. This was definitely the right move. We contacted Kathy and she explained to us what would happen and it DID! We were able to move into a ranch which is much better for my husband. Kathy's Team is professional and is very experienced in short sale processing. Some realtors will not even consider short sales, because they do not know what they are doing which is one of the most frustrating things for a seller who is already upset about losing their home. Some realtors accept a short sale client and do nothing….this is terrible. Please let me know if I can help you with any questions about Katy Toth's Team. I honestly believe that you will feel relieved once you let Kathy perform her "magic".
Sincerely,
Pat Wixson – University of Michigan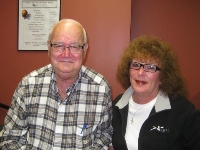 ---
"The experience that we have had with Linda Woodard is one that will never be matched in the home hunting process. She represented us as the "Buyer's Agent" as part of Kathy Toth's Team. Linda saved us so much stress by aggressively and regularly sending us via e-mail all available homes that met our criteria, then followed up with a schedule that was convenient, organized, and allowed us to see a variety of homes in a small amount of time. She was extremely professional, patient, and totally represented us as the buyers. She pointed out possible problems with each house that we looked at – things that we had not thought about. She was sensitive to our needs and schedules. Kathy Toth's Team can plan on our return when we make our next move. In 25 years of purchasing five homes, there is no other realty that even came close to the level of satisfaction that we have experienced with Linda Woodard! She is the BEST!!"
Ronald D. & Patricia A. Wixson
---
Dear Neighbor,
Kathy Toth and Team sold our house in a tough Seller's market for just 1 percent off list price, faster than market average and helped our family move to our dream location. The marketing exposure was second to none, even getting us on the Home and Garden TV Network show "House Hunters". We have and will continue to recommend them to everyone we can.
Sincerely,
---
"The Toth Team helped us sell for close to list price, faster than market average in a tough Seller's market. They helped us wade through a buffet of opportunities to buy our true dream home. They maximized our exposure and even got us on the Home and Garden TV show "House Hunters". We will recommend them to everyone we can."
Sincerely,
---
Dear Neighbor,
Elizabeth and I are fully settled in our new home in Dexter and have sold 7437 Quail Ridge for 96.32% of list price.
I knew we needed an aggressive agent and heard about Kathy Toth and Team. We got an offer within 7 weeks. There was constant communication and were totally kept informed every step of the way. Kathy always put our needs first.
We know that The Toth Team is excellent and we just want you to know this too. You see, we worked with another company for 9 months that could not get the job done. We know you will be pleased and want you, our good neighbors, to be taken care of. When you are thinking of moving, hire the local expert; call Kathy Toth and Team 734-426-6669.
---
Dear Neighbor,
We had our house listed with two agents before we hired Kathy Toth and Team to market our home. She sold our house within 1 week for 99% of list price. Communication was excellent and we felt her team did an excellent job representing our best interests. We now know that top agent like Kathy makes all the difference in the world. If you are ever thinking of selling and want top dollar, call her at 734-669-0337.
Sincerely,
---
Dear Neighbor,
Kathy Toth and Team are the best REALTORS in the area. We hired some one
else to no avail, so we know her experience and enthusiasm are not
replaceable Her market knowledge is second to none. She and the team made
the process easy and she is the only agent we would trust for our Real Estate needs.
---
Dear Kathy:
My best wishes to you and your team for the New Year.  "..I want you to know that both Bob and I were completely and totally satisfied with how you handled the sale of our home. My "dream" scripting of how the sale would proceed is exactly what happened. I couldn't ask for anything better!!  We also has a very good experience with the moving company we hired through the RE/MAX referral you gave us.
Again, thank you and your team for handling the sale of our house in such a professional, polished and personal manner.
Sincerely yours,
Maureen Fox
A GREAT DEAL
We had our house listed with another agent last year and it didn't sell. The Toth Team sold it for 99.8% list price in 4 days. Then they helped us negotiate a great deal on our purchase.
---
From the Merriam-Webster Online Dictionary:
Main Entry: 1speed
Pronunciation: \'sped\
Function: noun
Etymology: Middle English spede, from Old English sped; akin to Old High German spuot prosperity, speed, Old English spowan to succeed, Latin spes hope, Lithuanian speti to be in time
Date: before 12th century
1 archaic : prosperity in an undertaking : success
2 a: the act or state of moving swiftly : swiftness
b: rate of motion: as (1): velocity 1 (2): the magnitude of a velocity irrespective of direction c: impetus
3: swiftness or rate of performance or action : velocity — at speed
chiefly British : fast rapidly — up to speed
: operating at full effectiveness or potential
Though being methodical, fair and logical is a family trait, a hospital stay concurrent with a kitchen remodel made our mother realize that she was spending most of her waking hours doing things for her house, not living her life. That said, however, she'd never considered leaving – "this is home; where would I go?"
On November 30th, not four days after being released from the hospital, my mother toured some condos in a retirement community, and walked into a unit which was obviously HERS – so much so that it had exactly the same appliances, flooring, fixtures, and surfaces she'd just done in her own kitchen "but better quality". Long story short, after nearly five decades in a wonderful home, our mother decided a change was required. The rigors of caring for the house had just become too much. She bought the condo right that second, and planned to move by (gulp!) December 12th.
The family gathered to plan, each of us imagining a protracted selling cycle which would give us months to empty the house and redistribute those things which mom wanted to give away.
But to whom could we entrust our family home? How to find someone who would care for the home that had been part of us for nearly half a century?
We asked our friends and neighbors, and everyone pointed us in the same direction: Kathy Toth & Team and her Kathy Toth Home Selling System.
SPEED became the word of the day.
We looked on the website highlighting Kathy's home selling system. Intrigued by what we saw, I called Kathy. From our initial conversation, Kathy clearly stood out from the crowd. She showed up on-time the very next afternoon with the typical market activity statistics. But that was the only thing typical about her presentation.
SPEED was of the essence – Mom wanted to move in a week!
Kathy was an excellent source of information not only in regard to the current real estate market, but also every pre-sales decision that had to be made. We were very impressed with her approach and suggestions – she really struck a perfect balance between getting the house in the best selling condition AS WELL as getting us the best solution for a sale QUICKLY.
Kathy presented her "Home Selling System" which includes premium Internet advertising, virtual tours, photos, staging consultations, and a team approach to selling houses. But initially, it was her website examples and her commitment to the GAME of selling that caught my eye. By offering those services, she demonstrated a time and financial commitment to market our home. However, the SPEED with which she worked was breathtaking!
We walked through property and she noted the qualities that made my mother's home unique. She shared her references. She advised us of the things she would do to market the home to sell FAST. She and my mother mutually agreed on an asking price and marketing strategy. By the end of that initial meeting, my mother felt comfortable that she would be well represented and signed on with Kathy.
Immediately, we started seeing the results of Kathy's pre-marketing efforts. The day our home went on the market, I logged into the website and immediately saw that our home stood out. Rather than seeing a placeholder that said, "Hot New Listing," the exquisite virtual tour and photos were already prominently posted. Those coupled with her description of the property made us certain we would sell FAST.
— up to speed: operating at full effectiveness or potential
Kathy's efforts achieved results. My mother quickly got TWO full-price offers – less than a day after the house went on the market.
prosperity in an undertaking : success
Kathy and her team did not stop there. They followed through by ensuring that both offers were solid. They clarified ambiguities in the offers and proactively drafted the addendum to ensure equitable language. They verified both buyers' financial worthiness. They successfully encouraged the winning buyer to quickly release contingencies. Finally, the team followed through on a very uneventful, clean, and early close – less than 20 days after the offer.
We must thank Kathy Toth and her team selling our house so successfully and at HIGH SPEED. Thanks to Kathy's marketing program, the pain and hassle of preparing the house for sale and then selling it was completely effortless on our part. The sales price and the time on the market (again, due to Kathy's strategy) was far beyond our expectations. It sold basically one day after being placed on the market to a buyer who has become a family friend; or rather, who is now part of our family.
If you want to use a realtor who invests in sending out postcards which state, "I sold your neighbor's property. Call me if you want me to sell yours," Kathy is not the realtor for you. But if you want a realtor who will personally invest in marketing your home and follow through to the close of the transaction, without hesitation, call Kathy Toth and her team.
swiftness or rate of performance or action : velocity
Main Definition: SPEED: KATHY TOTH & TEAM
FRIENDLY, PROFESSIONAL AND HELPFUL Your team is friendly, professional, and helpful. I felt I have new friends. Your team goes that extra mile for your customers. THANKS.
Joanne and Leon Lowe
---
IT HAS BEEN A PLEASURE: It has been a pleasure working with you. You sold the lake home for a great price and fast. I have told everyone how very good you are .
Blanche Bauman
---
"Kathy and the Team are very kind and understanding, not to mention patient, with first time home buyers. I would recommend your service to any prospective buyer."
Gerald and Renee Steiner
---
"I will not hesitate to recommend Kathy's team to any of our friends."
Susan L. Dickinson
____________________________________________________________________________________________________________________________________________
"My wife and I highly recommend Kathy Toth as a real estate marketing and sales professional. She sold our house in one week at full price after it had been listed with another agent for 6 months and she sold our 30 + acres in Dexter without even listing it."
Charles D. Hackney, Attorney
____________________________________________________________________________________________________________________________________________
"Thank you for being competent, efficient, knowledgeable, persistent, and thorough in marketing our lake front property at full price. We appreciate your helpfulness and your vivacious good natured attitude. We recommend you to everyone."
Irvine and Wilda McCann
---
"We can't begin to put into words the sincere appreciation we have for your results. Splitting up our 100 acres and farmhouse with you was vital to our success. It is your knowledge and understanding of real estate practices, attention to details, and genuine dedication to the people with whom you are working that made this a pleasant project. You sold the house and lots for more than list price in less than average market time."
Charles H. and Charlote A. Schauer
---
"We want to thank you for expertly marketing our house with so much concern for our family — making it seem effortless. Your staff was always responsive, helpful and pleasant to work with. You sold it for 99% of list price in 3 weeks."
Gregg and Laurie Reeve
---
"John and I can't thank you enough for all your help and support in our house buying journey. You were so knowledgeable, patient, and professional and we felt so comfortable having accredited buyer representative, Linda represent us. We love our new house and thank you and the Toth Team again for your services and lovely closing gift!"
Vikki Garza and John Gardener
---
"I had a good idea of the type of agent I wished to work with when selling my parents' and my home. I needed an agent whose office had the knowledge, experience, and dedication to complete the sales with the least possible disruption of my work and the least amount of effort on my part. Kathy Toth and her team provided that service. My home sold within six days of listing for 1% off list price."
Ruth Anne Ellis, former REALTOR®
---
"I found the Toth Team to be the best organized and most prompt, courteous people I have ever contracted for real estate transactions. They sold my condo for full price in 2 weeks."
Ronald Peters
---
"You guaranteed to buy our home so we could get our new construction home. Your service is unsurpassed."
Cindy Schang
---
"I have had the pleasure to conduct multiple transactions as Buyer and Seller with her team. Their greatest strength is that they care and empathize. Kathy's strong involvement in the community and in Children's Miracle Network as a sponsor and contributor just add to a lifelong list of living an attitude of truly caring about other people."
William Schaffer
---
"I have had the pleasure to conduct multiple transactions as Buyer and Seller with her team. Their greatest strength is that they care and empathize. Kathy's strong involvement in the community and in Children's Miracle Network as a sponsor and contributor just add to a lifelong list of living an attitude of truly caring about other people."
David Walker
---
"So the deal is finally done. Thanks to your knowledge and experience in this market we were able to get our home sold. Debbie and I appreciate all the care you took to meet with us in the beginning, talk non-emotionally about the facts of the market then put into place a plan to get the deal done. We know these are tough times, but if anyone is really serious about selling or buying their homes, they must go with someone who is connected with all the technology of Ann Arbor real estate market of today AND someone who has enough experience to draw upon what actually is possible. That someone is YOU and your team! Thank you so much for being so professional and so wonderful to work with."
Debbie and Miller Asbill
---
"Kathy Toth sold our home in 2 weeks for a very reasonable price in a challenging market. We have already referred 2 people to Kathy Toth and Team and highly recommend them!"
---
Dear Kathy,
Having recently closed on the sale of our family home in Dexter, we wanted to thank you and your team for the first-rate service you provided to make our home sales a successful transaction, in a very challenging house market. Your deep knowledge of the market was a huge advantage, and we felt you always worked in our best interest.
We found your use of electronic marketing tools very effective, and we were kept informed at all times. Since we were relocating out of state, it was tremendously helpful that you made yourself available whenever it fit our schedule, including late hours and weekends. Above all, we really appreciated your relentless customer orientation – all agents are NOT alike.
Again, thank you and your entire team for all your professional help and support in selling our home. This is the second home in Dexter that you have successfully sold for us in the past 5 years – we highly recommend your services to any prospective client looking to buy or sell a home in the Dexter and Ann Arbor area
Sincerely,
Sylvia Vogt and Mike McCuaig
---
"We cannot thank you enough for closing this transaction for us. It has been a long and tedious process and we are so glad it is over. We know it closed because of all the hard work all of you have done and we are very grateful."
Thank you again,
Pete and Rosemary Bailie
---
To whom it may concern:
When I moved to South Carolina for work, my home had to be sold as a short sale. So, this left me with the tough choice of finding a capable agent for the job.
I interviewed a handful of agents, but immediately after speaking with Kathy Toth I knew that her team would be my best choice.
Three things that incline me to recommend them to others.
They have professional contacts with title companies that facilitated negotiations with the bank.
Their marketing was the best that I have seen; the photography alone was the first clue about their talented skills.
The agents' office was prompt with communications between all parties, especially Jennifer Marshall.
They took control of the sale of my home, and I felt comfortable trusting them to do so while I was living out of the state.
So, I can honestly and confidently recommend the real estate services of Kathy Toth and Team.
Sincerely,
Ronald and Jill Pentz
---
Ypsilanti, MI.
When my husband lost his job, he ended accepting a job out of the country and we had to make a big move. Unfortunately, like so many of our Michigan neighbors, the value of our home in Ypsilanti Township plummeted when the real estate market crashed. We just had no idea how much until we were forced to sell it.
The first Realtor we met with us recommended we try to sell our house for over $50,000 more than what the "comps" were in our neighborhood. Had we heeded her advice, it could have cost us thousands and thousands of dollars, our house would likely have never have sold, and would have sat empty while we were in another country. We could have easily ended up with a foreclosure on our credit record.
Then we called Kathy Toth; we hear her on the radio… she sat down with us at our kitchen table, reviewed our situation, and then explained to us what a short sale was and why it made sense for us. And as hard as it was to hear, she gently but firmly revealed to us how much our house was really worth. A short sale absolutely was the best option for us.
So, we chose the Kathy Toth Team – and they were AMAZING! They generated a TON of excitement and activity, and because of them we were able to get our house sold within a very short time. In fact they had offers on the table in the first month! They kept us totally "in the loop", and diligently handled everything, including submitting offers directly to our lender, and even handled the closing for us … all while we were on the other side of the globe trying to start a new life.
The new buyers took ownership, and we are now completely out from under the financial burden of our housewith no obligation to the bank. Kathy Toth's "over-the-top", hard-working, real estate experts just got it done! Thank you Kathy – because of you we are able to start over with a "clean slate" !
I highly recommend Kathy Toth and her expert Real Estate Team … I am so glad we called them!
Sincerely,
Pamela and Brent Wallace
---
To Anyone Looking for an Exceptional Realtor:

I chose Kathy Toth as my realtor based on the enthusiastic recommendation of a previous client. I am very glad I chose Kathy, and in turn I want to recommend her.
I have just concluded sale of my condominium home in downtown Ann Arbor. Despite the difficulties of the current market, my experience with Kathy Toth as my realtor made the experience smooth an easy. Kathy brought my transaction to a successful conclusion within only a few months.
Kathy is very experienced and knowledgeable about the state of the market in Ann Arbor and its surrounding communities – a market which these days are a rapidly moving target. Kathy is also very knowledgeable about how to prepare a property for sale and help prospective buyers understand its attraction and feel comfortable in the space. Her method is simple and it works!
Kathy and her team treated me as a unique individual, not just as a commodity called a "listing." Kathy made it her business, as she does with every client, to get to know me and my needs and priorities in detail. Inquiries were always answered promptly and personally. In addition, Kathy and her team provide frequent updates via email and maintain a very helpful online presence.
Also very important to me: Kathy is upbeat, energetic, straightforward and honest.
In short, Kathy Toth is by no means a generic realtor. She is an expert in this market who took care of me personally without fail, and I recommend her without hesitation. I appreciated Kathy Toth and her team!
Sincerely,
Margaret Jane Radin
---
"We sold our home and avoided foreclosure. Our home had gone to sheriff sale and Kathy Toth and Team secured a great offer immediately close to list price and we walked away with money! They are the most responsive, organized and professional real estate group we have ever worked with.
She and her team always worked in our best interest, kept us informed and provided superb prompt service. Most importantly, you can trust her and her team members. They are the definition of integrity."
---
"Kathy and her team sold my Ann Arbor Nielsen Square condo for 97 percent of the asking price in a challenging Ann Arbor real estate market. Her team is exceptionally prompt and knowledgeable. I am a repeat client. I suggest you hire these Ann Arbor real estate experts also to experience what a real estate transaction SHOULD be like with true professionals."
---
Dear Neighbors,
We recently relocated to Florida, which left us with the necessity to sell our home. We had quite a bit of concern – given the current market and the competition out there. We are happy to report that the selling process was quick and painless.
When it came to choosing a realtor, one name came to mind, Kathy Toth and team. We had seen many homes in our area with her signs in the yard, many homes that sold relatively quickly at that. We were impressed from our first meeting with Kathy, and that feeling only grew stronger as her team managed the sale of our home, maintained communication with us from afar, and navigated the unexpected twists and turns that showed up along the way.
So if you know someone who is thinking of selling, please contact Kathy's team. We think it is important that we go out of our way to share their local expertise and know you will be well served by calling Kathy Toth and Team to represent you 734-426-6669.
Best Regards,
Todd and Meredith Ingram
---
"Working with the Toth Team made our Ann Arbor Real Estate selling experience seamless. They understood the market, were reliable and knowledgeable. I have already recommended a family member and strongly suggest you hire the Kathy Toth Team too."
---
"I sold my home this week. I just wanted to share with you the name of my agents – Kathy Toth and Team. Kathy got full price and helped me close during a challenging market. She always worked in my best interest, did a great job negotiating, and kept me informed. The communication and guidance through all options was invaluable. As a Human Resource Manager, I seek and recognize talent and would highly recommend her whole team."
Lindsay Wentz
---
6484 Meadow Ridge
Dexter, MI 48130
Dear Neighbors,
"I sold my home this week. I just wanted to share with you the name of my agents – Kathy Toth and Team. Kathy helped me close during a challenging market. She always worked in my best interest, did a great job negotiating, and constantly kept me informed. The communication and guidance through all options was invaluable.
As a Math professor, I appreciate details and market data and Kathy was excellent at providing and discussing both. I think it is important that I go out of my way to share their local expertise and know you will be well served by calling Kathy Toth and Team to represent you. So if you know someone who is thinking of selling, please contact Kathy's team: www.KathyToth.com or 734-426-6669."
Best Regards,
---
"I can't say enough about how pleased I am to have worked with Kathy Toth and Team. Working with her team was better than I ever could have imagined. They were so knowledgeable when it comes to real estate and the Ann Arbor, Dexter, Saline, and surrounding areas. She never put any pressure on me and listened to my wants, needs, and concerns straight from the get go. She is a pleasure to work with; she has a very fun and outgoing personality. She helped me work with the seller and negotiate major and minor fixes in order to close the deal. I felt an instant connection to them and I am really pleased to have worked with such a fun group!
Kathy Toth and Team got me a great deal on my first house and I can't wait to work with them again. I would (and will) recommend Kathy Toth and Team to anyone looking to buy or sell a house in the Ann Arbor (and surrounding Washtenaw county) area! Thank you team!"
Steve and Laura Sturn
---
"We purchased a lake house that was a short sale through the Toth Team and experienced the intracacies and detail that unfolded. We were very glad to have a buyer's agent to ensure our smooth transaction. So we hired Kathy Toth and Team to sell our house. They sold it in 3 weeks for full price. Their communication and attention to detail was superior. As teachers we grade them A plus."
Deb and Bob Coller
---
"Thank you for selling my downtown Ann Arbor home at 97.8 percent of asking price. You made the process a lot easier for me. I appreciate all you did to make this happen: excellent communication, negotiation, and insightful market knowledge. I am so glad I switched from trying for sale by owner to selling with your team."
Tom Nestor
---