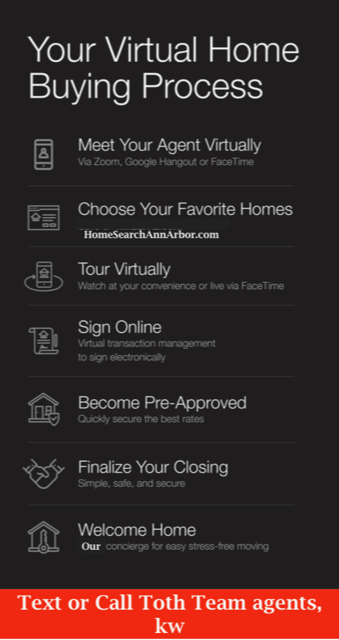 What a crazy Spring it has been!
Our main concern is the health and wellbeing of our staff and clients. Thus, we are adhering to the CDC's recommendations regarding social distancing and other precautions.
For all of our clients, it means we are prequalifying in a much different way by:
• Asking all parties if they have traveled prior to making an appointment
• Asking if they have had any illness or symptoms before we meet with them or show any homes
• Asking buyers to limit showings to a group of two
• All parties entering shall wear gloves, masks, and booties to minimize contact and  maintain distance  – complying with legal requirements.
• Asking the sellers to turn lights on & leave them on so this limits touching switches, etc.
• Disinfecting the office once a day so staff can work in a safe environment
• Conducting our team meetings & trainings virtually so the number of employees at the office is limited
• Offering all virtual tours online (our agents are happy to do a video prior to a personal showing)
• Reminding clients that closings will take longer as lenders are having issues keeping up due to refinances. We now have a limited number of appraisers wanting to continue to go in & out of homes across the country. Many offices are currently limiting their staffing
• Conducting most closings digitally at the client's request (See more about Your Virtual Home Buying Process below.)
We are not sticking our head in the sand, but we are also not creating panic
Housing – buying, selling, and renting – is still a necessity. We still have clients who are moving to or from our market area. Despite all of the uncertainty, real estate as a whole is one industry that has not experienced a 30% drop.
Additionally, given that the real estate industry as a whole was much stronger at the onset of our current crisis than before the 2008 recession, we will emerge from this economic downturn stronger. Interest rates are at historic lows. There are still plenty of buyers looking to purchase. Until the government mandates a temporary cessation of business, we are 100% operational.
That said, we have seen a slowdown. This will likely continue for our industry, as well as other sectors of the economy. But, we will continue to support small businesses and our community to the best of our ability.
Please reach out to us with questions, concerns, or any needs that you might have.
Together, we will arise from this crisis stronger.
See below for more resources to help you through this time.
Resources:
SBA– Offering very low rates for businesses now in need
United Way (Washtenaw County)
Deferment on Student Loan Payments
Government Monies for Those Who Qualify
National Mortgage Payment Relief Efforts
Want to Buy a Home? Search All Homes
Want to Sell a Home? Get a Home Value Report