Looking to buy a home? Search all homes for sale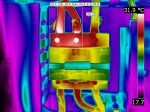 Today we'd like to answer a question asked by Amanda at our home buyer seminar about Thermal Imaging Home Inspection.  Amanda asked us, "When hiring a home inspection company, should you ask if they use a thermographic camera?"  
Because thermographic imaging camera costs have decreased recently, some home inspectors have begun using thermographic cameras to find issues that would be otherwise undetectable to the naked eye. Thermal imaging cameras can detect potential moisture, electric, and energy issues inside the home.
Thermal imaging cameras have been well-established as valuable inspection tools that can help reveal missing insulation, HVAC airflow and equipment issues, as well as radiant heating malfunctions, compromised roofing, and much more.
By detecting patterns and sources of heat loss, thermal imaging provides convincing evidence reports where improvements need to be made and will also clearly show how well those improvements have been completed.
In the video above, you can see the thermal imaging home inspection camera in action. It shows temperature changes that indicate a leak in a wall and even electrical issues inside the home being inspected.
Whether you hire a home inspector as part of the buyer inspection or a seller hires the home inspector before listing as part of a certified pre-owned program, always ask what the inspection includes. For example, one inspector told another Realtor's client in the middle of the inspection that they did not test gas fireplaces. Everybody wished they would have known that before the inspection. As is true with most things, it's the questions that you do not know to ask that will hurt you the most.
When you're thinking about ordering a home inspection, be sure to ask your Realtor.  The Real Estate agent can connect you with a local, reputable company so that you know what you're getting from them.  Interview them about Thermal Imaging Home Inspection, etc.  If you have any other questions about the home inspection process or anything else related to real estate in our area, give us a call or send us an email. We are here to serve and are happy to help you!