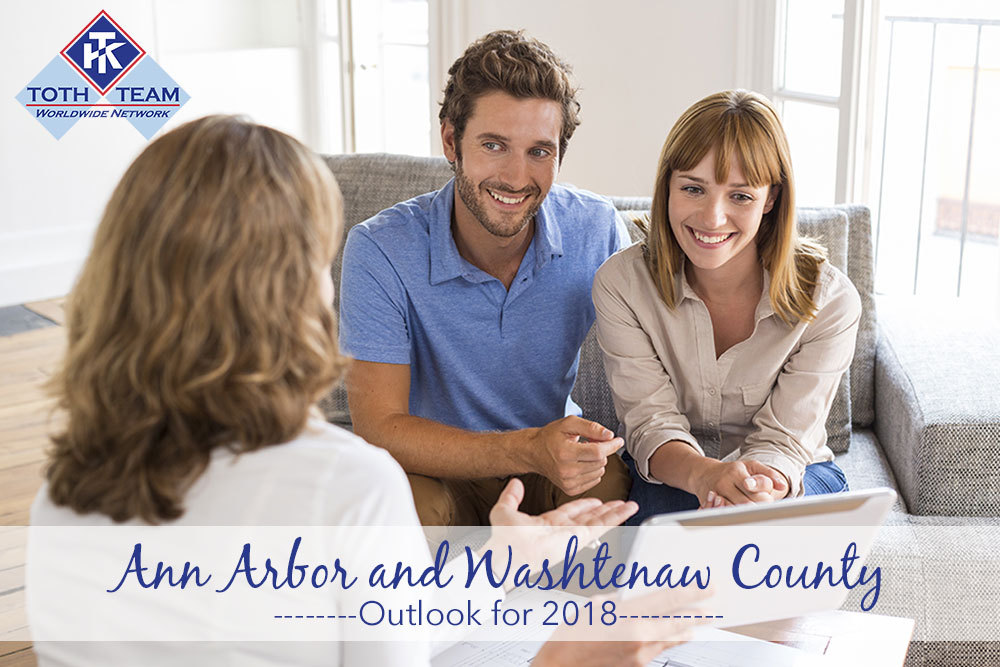 Ann Arbor and Washtenaw County Outlook for 2018
2017 was a strong year for the Ann Arbor and Washtenaw County real estate market, and we can expect the momentum to continue into 2018! Before we share our market projections, let's recap the trends to date, and look at the factors involved in our outlook.
2017 Market Wrap
Ann Arbor single-family home prices increased, reaching an average sales price of $303,087.  The median single-family home price reached $264,900. Condominium prices reached a median of $195,000. Sales were extremely brisk, with single-family homes spending an average of 37 days on market, and condos spending an average of 29 days on market.
Looking at Washtenaw County as a whole, single-family home sale prices reached a median of $303,384. Condo prices reached a median of $195,000. Days-on-market were 36 and 29, respectively.
Home inventory has been an ongoing challenge, with listings down by about 8% on a year-over-year basis.
The Tax Reform and Jobs Act
When projecting the market conditions for 2018, we must consider the potential effects of the Tax Cuts and Jobs Act. The new tax laws do not discourage home ownership, but the new caps on certain deductions could affect individual tax strategies.
For informational purposes, we will share examples of the tax deduction changes for residential real estate. This should not be taken as tax advice; please see a professional tax preparer to determine how the new law affects your personal situation.
Home Buyers:
Mortgages originated after 12/14/17 have an interest deduction limit of $750,000. Mortgages issued prior to this date fall under the previous cap of $1 million. This applies to primary residences as well as vacation homes.
The combined itemized deductions for property taxes, state income taxes, local income taxes and sales taxes cannot exceed $10,000.
Job-related moving expenses are no longer deductible, except for military personnel.
Homeowners:
Mortgage balances in existence as of 12/14/17, up to $1 million, can refinanced, and the new loan's interest can be deducted under the original $1 million cap. However, the new loan amount cannot exceed the prior loan's principal balance.
The interest on a home equity loan remains deductible, if the proceeds are used for substantial home improvements or repairs.
Unreimbursed casualty losses are no longer an allowable tax deduction, unless the loss occurred within a presidentially-declared disaster area, and was caused directly by the disaster event.
Home Sellers:
Tax exclusions still apply to the sale of your primary residence. Single filers can exempt up to $250,000 in home sale profit. If you are married filing jointly, you can exempt up to $500,000 in home sale profit. To qualify, you must have owned the home for at least 5 years, and have used it as your primary residence for at least 2 of those years.
Potential impacts to the Ann Arbor and Washtenaw real estate market:
Home demand is not driven by tax policy. According to the IRS, only about one-third of taxpayers itemized their Federal income tax return as of 2013. Therefore, the new tax law is unlikely to dissuade home buyers from entering the market.
However, the caps on itemized deductions could soften demand for luxury homes in high-cost areas; any effects would be highly localized.
Demographic Market Influences
From 2015 to 2016, Washtenaw County experienced the highest population growth of any county in Southeast Michigan, adding 3,862 residents. The current population is estimated at 364,709. Washtenaw County population numbers have been increasing for six consecutive years, averaging about 3,160 new residents per year.
Ann Arbor is home to the University of Michigan, which posted a record-high enrollment of 46,002 students in 2017.
The presence of the University of Michigan attracts young adults from around the state, the country and the world. The employment and entrepreneurial opportunities in our area encourage them to stay. Positive demographic trends are expected to continue, leading to increased home demand in Washtenaw County.
Economic Market Influences
Interest Rates:
Mortgage interest rates have shown tepid increases during 2017, even as the Federal Reserve hiked its benchmark lending rate on three occasions. The same conditions cannot be expected for 2018. A tightening labor market, along with a burgeoning financial market, may prompt the Fed to issue three to four rate increases during 2018.
Industry analysts expect mortgage interest rates to reach an average of 4.5% to 5% by year-end. Further rate increases are expected in 2019. The prospect of rising rates will keep home buyers motived.
Employment:
Washtenaw County enjoys one of the strongest job markets in the Midwest. As of November 2017, our unemployment rate stood at 3.1%. The national average unemployment rate was 4.1% for the same month.
Summary:
Without a substantial increase in home inventory, home prices throughout Ann Arbor and other popular markets in Washtenaw County will continue their assertive rise. Our local demographic and economic data points to ever-growing home demand, as does the progress of our national economy.
Construction permits were up statewide during 2017, but industry challenges have kept housing starts below historical norms. A shortage of skilled labor, along with the rising cost of land and materials, have restricted production of single-family homes. However, new construction listings have improved over recent years, and 2018 will offer the best selection of new Washtenaw County homes we have seen in some time.
Single-family homeowners have outstanding selling opportunities during 2018! The 2017 average sales price of $303,087 did not discourage buyers, especially those who are relocating here from other areas of the country. We are truly part of a global market as entrepreneurs, corporations, investors and students continue to discover Ann Arbor.
Multi-family development in downtown Ann Arbor is adding to the supply of condominiums and apartments, with hundreds of new units coming to market during 2018. While Ann Arbor condo prices were up sharply in 2017, the median sales price of $195,000 still puts them in reach of first-time home buyers, and makes them a popular choice for downsizing homeowners.
Please keep in mind that Washtenaw County real estate is highly localized and ever-changing.  Market conditions can vary substantially by location. There are always opportunities in the market for well-prepared home buyers and sellers who have the guidance of an experienced real estate professional.
If you are planning to buy or sell a home in 2018, get started today by obtaining an expert real estate consultation from the Toth Team Worldwide Network!