If you're selling your home, there are a myriad of benefits to ordering a pre-listing inspection. Today we're joined by an expert to help explain them all.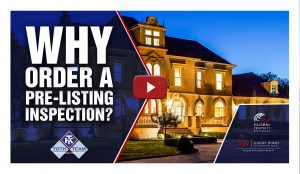 Looking to buy a home? Search all homes.
Looking to sell a home? Get a FREE Home Value Report.
Why should sellers get a home inspection before selling their home? Today we're joined by HouseMaster marketing representative Melissa Berends to give you the lowdown. Melissa will go over the benefits of a pre-listing inspection, but for more information about home inspections and questions you should as as a buyer, download our free e-book by clicking the image below.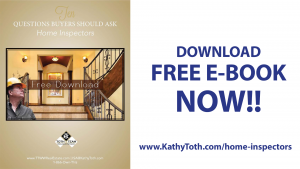 In case you don't know, a home inspection is an unbiased, objective evaluation of the home's major components which notes any potential defects or areas of concern. HouseMaster refers to these as pre-listing inspections.
The first major benefit you get from a pre-listing inspection is that you know what repairs are needed and can decide to either make them or negotiate an adjustment to the selling price. Seller-made repairs can normally be made for less than the negotiated repair cost, so it's probably in your best interest to make the repairs that are revealed during the pre-listing inspection.
"
A pre-listing inspection greatly enhances your home's marketability.
"
Another benefit is that the original selling price is more often obtained when a pre-listing inspection has been performed because either the noted repairs have been made or the original selling price has been adjusted to reflect the home's condition. Therefore, a realistic price is established based on factual data prior to the home being listed. You could also lose more money off your initial asking price if a buyer performs their own inspection and find undisclosed flaws. In fact, for every flaw a buyer finds in a home that would cost $1,000 to fix, you stand to lose $3,000- $5,000 off your asking price. In truth, the average buyer doesn't really know what it would cost to fix a given issue, and flaws are seen as far more egregious than those disclosed beforehand.
A pre-listing inspection also greatly enhances your home's marketability. If you have an excellent home inspection report, you can show it to potential buyers. For example, HouseMaster provides a link to their electronic pre-listing inspection report for any digital media advertising. There are many other creative ways to use the inspection report to help sell your property, as well.
Lastly, your potential liability will be reduced with an independent report of the home's condition from a professional home inspection company. You may not know the true condition or any possible defects when completing the seller's disclosure statement, which can cause legal and goodwill issues. If both you and the buyer are aware of the home's conditions, you can proceed forward with a good-faith negotiation.
For a more in-depth look at the scope and purpose of a home inspection, click here to see one of HouseMaster's own reports.
If you would like more information from Melissa about home inspections, you can call her at (888) 848-0202.
A special thanks to Brandy from Toronto for inquiring about this topic. She will receive a $25 gift card for her question being chosen. If you have any questions or are interested in buying or selling a house, please don't hesitate to give us a call or send us an email. We'd be glad to assist you.