Dani Hallsell is back with us today with move tips on how to stay sane when moving to your next home.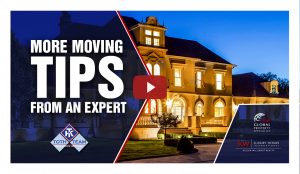 Looking to sell your home? Get a FREE home value report
Today I wanted to share some more great moving tactics that will help keep you from going insane during your next move. For a little help, I've brought back Dani Hallsell from Stevens Worldwide Van Lines, which is a national storage and moving company. So what does Dani suggest to help make a move go slowly? Now that you know where you're going and your boxes are packed thanks to our first set of tips, these tips will make the next steps much easier.
1. Consider packing "Open Me First" boxes. Include familiar items that will make everyone feel at home right away, as well as items that you use on a daily basis.
2. Label each side of your boxes. No matter which direction they turn, you know what's inside.
3. Label fragile items with an arrow to indicate which side is up. This is often overlooked but will help you when your house starts filling up with boxes.
4. Fill and label a box with tools, cleaning supplies, extension cords, and surge protectors. This will make unpacking a breeze if it's the last box you put in the moving truck. Don't forget—toilet paper is an essential item!
"
Make your life easier by packing essentials last in an 'Open Me First' Box.
"
So what should you plan on taking yourself? Dani says Stevens recommends taking all valuables like money, jewelry, coins, collections, important papers, and medications with you personally. For the safety of your items, Stevens does not ship anything combustible or explosive, living, or perishable.
Another interesting fact about Stevens is that they partner with Move for Hunger. People throw away a lot of stuff when they move, and unfortunately, much of it is food. That's why Stevens lets its customers set aside non-perishable food items, which will be picked up by their crew and delivered to the local food pantry. They'll even supply the boxes for these nonperishable items, Dani says.
If you have any questions for the experts at Steven Worldwide, you can call them at (517) 614-8037.
If you have any real estate questions or you're thinking about buying or selling a home in  the Ann Arbor area, give us a call or send us an email. We'd be happy to help.