One thing we take pride in is our technology. We use the latest and greatest to make every transaction a breeze.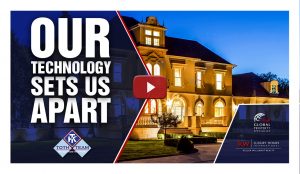 Looking to sell your home? Get a FREE home value report
We're here today with Brian Welch of 102.9 FM to talk a little bit about the technology we have at our office and how it makes the real estate process better and simpler.One thing that stood out to him was our automated chat feature, which saves chat conversations so you can come back to them later. When you combine that with our advanced home search tool, we put the power in the hands of the consumer. You can search for homes that match your criteria, pick out your favorites, and ask us questions all on your own time.
"
We put the power in the hands of the consumer.
"
Another thing Brian loved was our use of virtual reality. It's an entirely new way to browse homes online. All you do is slip on the headset and you're transported inside the home. Everything is in clear high-definition and puts you inside the home, just like you're walking through it.
Thanks to Brian for joining us today. We are proud to have his endorsement as one of the best teams in the area. If you have any questions for us, don't hesitate to give us a call or send us an email. We look forward to hearing from you.