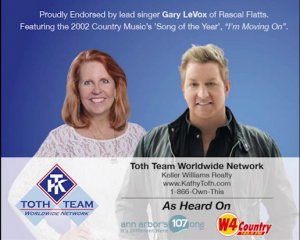 Toth Team Worldwide Network of Keller Williams Realty and Kathy Toth announced the Endorsement Gary LeVox. This endorsement is important to the Ann Arbor Area Real Estate Experts team. "We are thrilled, it is a perfect combination of I'm Moving On's melody and heartfelt lyrics combined with LeVox's personal endorsement." said CEO Kathy Toth. "We want our clients to know they are important to us, and this is just another way we have of saying that."
Kathy Toth is proud to announce that she and The Toth Team Worldwide Network is now exclusively endorsed in Ann Arbor by the lead singer of Rascal Flatts, Gary LeVox.
This endorsement also incorporates the music of Rascal Flatts, featuring "I'm Moving On", which was awarded 'Song of the Year' at the 38th annual Academy of Country Music awards in 2002.
The concept for using the song I'm Moving On began with a desire to help home sellers ease the stress of moving into their next home, and connect them with Kathy's Team so they can help them handle the challenges associated with buying or selling their home. "Gary was the perfect choice. Great song, great message, and one of the most identifiable voices in Nashville."
The Gary LeVox / I'm Moving On endorsement debuts on 102.9 W4 Country and Ann Arbor's 101.7 WQKL on Monday, March 12, 2017.
For almost 30 years, Toth Team Worldwide Network has served Washtenaw, Livingston, Oakland, Lenawee, Jackson and Wayne Counties, including clients in Dexter, Ann Arbor, Chelsea and Saline.
Today, Toth Team Worldwide Network has global aspirations and a growth strategy to meet the modern needs of clients around the world. The launch of the Denver expansion team in 2016 placed Toth Team Worldwide Network in position to accomplish these goals.
Toth Team Worldwide Network is among the top one percent of Keller Williams REALTORS® nationally. They have been featured on House Hunters HGTV, and are proud to be the only trusted agent endorsed by celebrity Martin Bandyke on radio 107.1, and the exclusive real estate agent for 102.9 W4Country.
Toth Team Worldwide Network exceeds client expectations while delivering top performance in the purchase or sale of residential real estate worldwide. To learn more, please visit www.KathyToth.com, email info@kathytoth.com.