Knowing how to spot and remove a dead tree from your property can improve your home's overall saleability.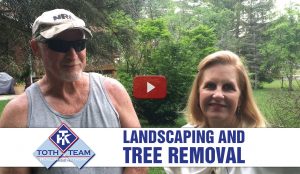 Looking to buy a home? Search all homes.
Looking to sell a home? Get a FREE Home Value Report.
Landscaping is very important to the value of your home. According to this HGTV article, "Several recent nationwide surveys show that mature trees in a well-landscaped yard can increase the value of a house by 7 percent to 19 percent." Part of landscaping sometimes involves removing dead trees.
To illustrate this point, we're onsite at a property that is having some trees removed from its landscape. Joining us is Gary Mosher from A-1 Tree. Gary is an expert tree cutter, and he's taking down a few pine trees that are dying. As a 45-year veteran of this business, he enjoys it because it allows him to be in a different spot every day, and it's fun for him to be outside.
Many pine trees in Michigan are diseased, but a lot of them just need to be fed and fertilized. If you find the dead needles early enough, you can save the tree by driving a piece of pipe down around the root system of the tree and filling it with triple twelve fertilizer. Cutting down a dead tree can improve your landscaping, which in turn helps your property's saleability.
"
Cutting down a dead tree can improve your property's saleability.
"
One particularly persistent problem in our area is Blue Spruce disease, which affects Colorado Blue Spruce trees and is easily recognizable by the branch dieback that occurs. According to the MSU website, "The rapid decline of many spruce trees in Michigan and surrounding states appears to be related to an increase of canker diseases coupled with other disease and insect problems that plague the species."
According to Gary, the technology of tree cutting has improved over the years. Upgrades in equipment such as chainsaws, chains, and stump grinders allow them to do the job faster and easier. He does not, however, recommend that you try cutting down a dead tree yourself.
If you want to take care of some dead trees or make some improvements to your property, I highly recommend that you give A-1 Tree a call at (734) 426-8809.
If you have any questions about tree removal or you have any other real estate questions, don't hesitate to give us a call. We'd be happy to help you.