You want your home to look as good as possible when you sell. Today we'll discuss how staging can help you accomplish this.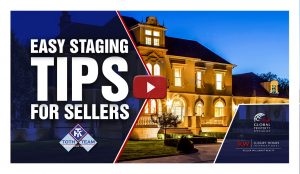 Looking to sell your home? Get a FREE home value report
When you sell your home, you want it to look as good as possible when you list it. To get your home looking its best, you've got to stage it. We are answering a question today from Diane in Ann Arbor who wants to know what she can do to stage on a budget.
To answer the question, we are joined by our good friend Sharon McRill from Betty Brigade. Staging helps homes sell faster and for more money, and we prepare our homes better than other Realtors. Part of this is because we work with Sharon and she helps us maximize that impression.
"
Staging helps homes sell faster.
"
She has three tips to share for those of you who want to stage on a budget:
1. Get rid of your clutter. Everyone has it. Get rid of the stacks of newspapers, magazines, and other knick knacks that make your home seem smaller.
2. Painting. This is the single easiest and cheapest way to raise your home's value.
3. Get rid of worn furniture. It's really easy to remove some furniture or just replace it with some rental pieces to make the home look better.
View the official Betty On The Move! Guide To Moving here.
As you can see in the video above, a few simple fixes can have a huge impact on a home's perception. Sharon has helped thousands of people move, pack, and get their home ready to show. If you have any questions for them, visit them at bettybrigade.com.
If you have any other real estate-related questions or if you're looking to buy or sell a home, give us a call or send us an email. We look forward to hearing from you soon.