North Meadows Subdivision is located in Webster Township, Washtenaw County, Michigan 48130 just off North Territorial and Mast Rd.   North Meadows community has 41 beautiful homes.  The Homeowner's association dues are about $395 per year.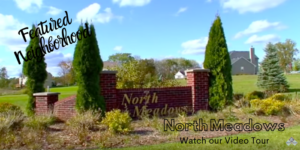 Homes were built by Guenther Homes from 2004 to 2006 and range in size from 2010 to 3745 square feet, situated on over 1 acres sites.  North Meadows subdivision homes have a minimum of 3 bedroom 2.1 baths.  Many are 4 bedrooms, 3.1 baths with walk out basements, hardwood floors, granite center island kitchens. They have master suites with walk in closets, separate shower and spa tub, 3 car attached garages, cathedral ceilings, pre-plumbed basement for additional bath with 9 foot ceilings, fireplaces, butler's pantry by formal dining rooms, sprinklers, 2 story great rooms, some with loft area above, split staircases, trex decking.
To see a copy of the Master Deed for North Meadows click here. Some North Meadows subdivision homes are pictured below.
Click Here to Explore North Meadows Subdivision Homes for Sale
There are many floor plans to choose from, the Savannah being a popular choice – making it a family home for all seasons! Open space abounds throughout the great room with a two story ceiling bringing in the sunlight, first floor bedroom, formal dining room and study. Four bedrooms, 3.5 baths and 3050 square feet.
A short drive South on Mast Road takes you into Dexter's abundant restaurants and activities.  Further up Mast Road takes you to the grass runway of Cackleberry Airport.  Heading East on North Territorial Road takes you towards the Portage Lake and Inverness Inn on North Territorial for a quick meal and libation.  The subdivision is far enough away from the city life to give you the peace and quiet you like, but close enough for city convenience and US 23 expressway access.
Children attend Dexter Schools: click here to view a video on Dexter Schools.
Dexter is convenient to lots of fun and activity, for instance,  Hudson Mills Golf Course and Hudson Mills Metropolitan Park. No matter which way you go, you'll find yourself surrounded by plenty of biking, hiking, walking and cross country ski trails.   Independence County Park has fun for everyone with swimming, fishing, boating, biking, disc golf, and bring your roller blades along and ride the paved pathways.  Take Jennings Road north to the park off Territorial towards US-23 expressway.  These parks are some of the best in the state.  Here are some of the other plans the recreation committee for Dexter has in the works.  Read the entire Recreation Report – skim through to page 28 for walking trails planned for Dexter, Michigan.
The Portage Lake Chain of lakes is within minutes, just north on Dexter-Pinckney Road. If you like Sailing – then visit the Portage Yacht Club which is on the chain as well.  Fishing on the Huron River is also very popular for anglers.
Dine out at the Red Brick Kitchen and Bar, a great place to stop and enjoy a delicious meal as you travel home from work, shopping or a sporting event.  Take in a play at the  Encore Theatre in Dexter located behind the Dexter Bakery just off Main Street. Stroll downtown Dexter on the Walking/Bike Trail.  Other great restaurants are Terry B's, the Dexter Pub,  Aubrey's, the A & W, and check out the Dairy Queen on facebook in downtown Dexter. If you have a sweet tooth look up Mindo Chocolates.
Looking for the perfect gift for a friend who loves feeding birds; gardening; or has pets to care for, then stop in at the Dexter Mill.   Check out your favorite new best seller at the Dexter Library – a state-of-the-art public library located along Mill Creek just off Main Street.  Learn about the history of Dexter at the Dexter Historical Society.  And did you know that Dexter, Michigan has their own Dexter Community Orchestra and Dexter Community Band so join soon if you are musically inclined. The Ann Arbor Country Club is located between Dexter and Ann Arbor.  Downtown Ann Arbor is only a 20 minute drive away.  Check out Dexter Daze  – see videos.
We welcome your comments.  If you live in the community, we want to hear what you think of your neighborhood and welcome your input to improve this Ann Arbor Area information.